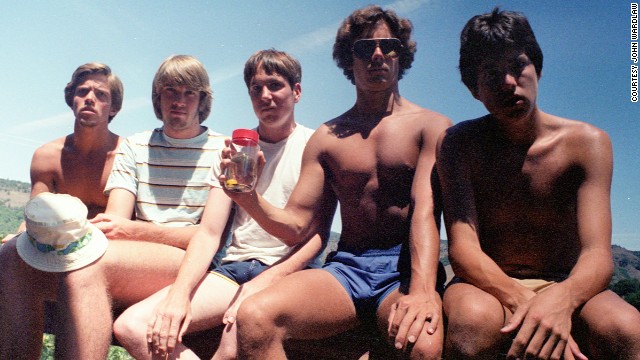 1982
When five teenagers sat down and posed for a picture at Copco Lake in 1982, they didn't plan on making it a tradition. But that's what it became.
Every five years for the past three decades, John Wardlaw, John Dickson, Mark Rumer, Dallas Burney and John Molony have been meeting at the California lake and taking the same photo.
The first photograph of the high school friends was just happenstance. Wardlaw, known as Wedge in the group, had a family cabin at the lake where the friends gathered in July 1982.
While hanging out on the deck of the cabin, Dickson, or J.D., set his 35-millimeter camera on self-timer to take a group photo.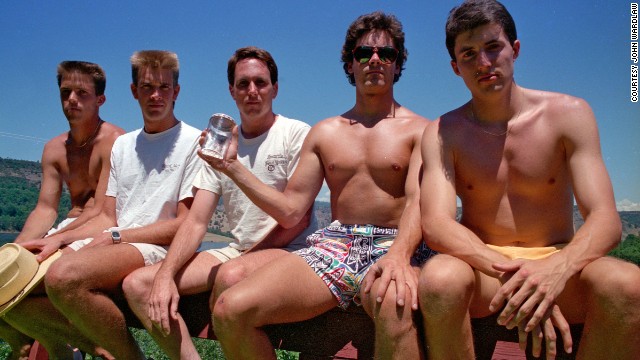 1987
"For some reason, we all chose to have dark and mysterious expressions on our faces," said Wardlaw. "I'm sure we all thought we were being really cool."
Though they tried a couple of poses, the one that would eventually win as the official vacation photo depicts the five teens, three of them shirtless, with shaggy hair typical of the time. They were about 19 years old.
Molony, known in the group as Belves, is pictured holding a Folgers Instant Coffee jar, which contained a cockroach the guys had decided to keep as a pet. They fed their new friend with a piece of butterscotch candy and kept it company with a photograph of Robert Young.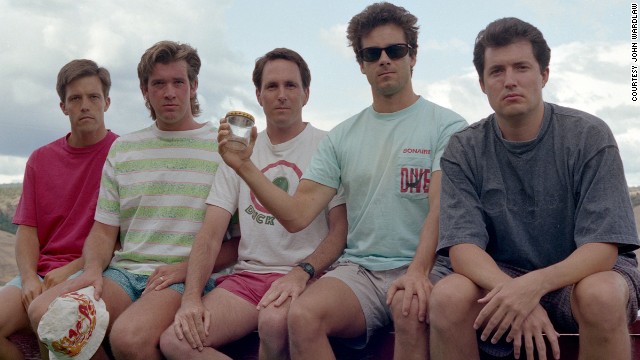 1992
"Priorities were so different back then. All I was really thinking about was summer and girls," said Wardlaw.
As the men went into their college years, they continued to return to the lake every summer. They spent their time fishing and reading and playing roles in homemade movies shot by Wardlaw, who is now a filmmaker.
"We're all very creative people, so we would take all of our creative energy and focus it into a certain direction," said Molony. "It wasn't, 'Let's all get together and get drunk.' It was, 'Let's get together and see who can make the funniest joke or pull off the sneakiest prank.'"
The men never drank on the trip. It has always been good, clean fun.
At least fairly clean: One year Wardlaw turned on the water to take a shower, and it was running brown. He removed the shower head to find a beef bullion cube.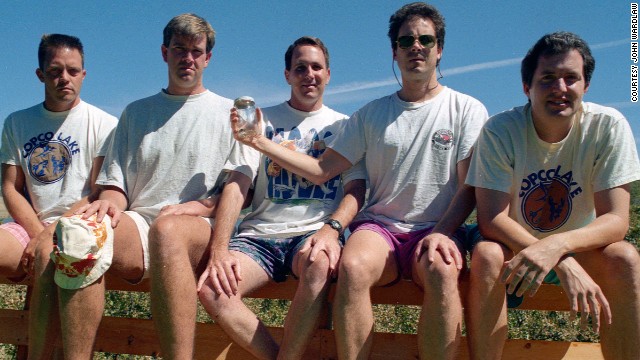 1997
"When I went back to the living room, the guys were all chuckling and I said something like 'beefy goodness' and they all exploded with laughter," he said.
But it wasn't until five summers later when Wardlaw, a photography enthusiast, decided it would be fun to recreate the photograph they'd taken in '82.
In 1987, the now college-educated men sat in the same position on the same bench, again with a self-timed camera. The jar, a different one this time, contained no cockroach, and the hat held by Wardlaw was different as well. The expressions however, were unchanged.
"I think I had a feeling this might become some cool tradition, but I had no idea we would still be doing it for 30 years," said Wardlaw.
In 1997, 15 years after the original photo, the men, then in their mid-30s, decided to solidify the photo as a tradition they would continue every five years for the rest of their lives.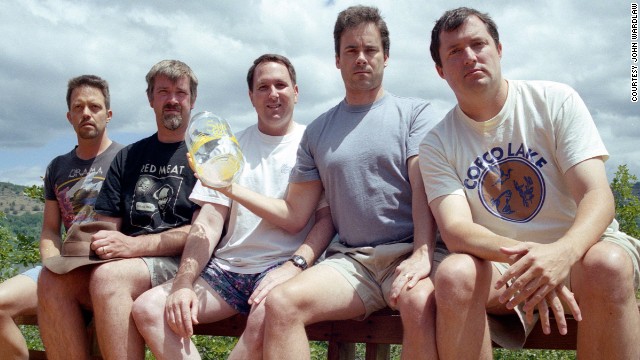 2002
Five guys, fun facts, through the decades
As the ritual became more concrete and when digital cameras were introduced, the group became more picky over the details of the photo, going as far as to wear the same clothes, and designate an official jar and hat as props. Hairstyles have changed over the years and with the march of time they abandoned the bare-chested motif.
"Watch us lose hair and gain forehead, gain and lose and gain and lose weight," Dickson posted on a website he maintains devoted to the tradition. "There are reasons we all decided it was better to take the photo with our shirts on."
Now, the friends also take the time to film the ordeal, and interview each other concerning the last five years' events.
The guys all agree that this trip has been the glue that has allowed them to maintain their friendships.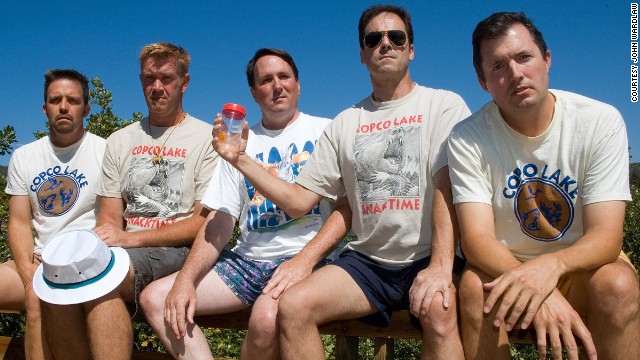 2007
"It's kind of an organic relationship that's evolved not just from being high school buddies but from having common passions for life," Molony said.
Over the years, the friends have played parts in the milestones of each others' lives, including being in each others' weddings.
"I look at the photos and think of the relationships I went through," said Dickson. "Wedding rings come and go, if you look closely."
Dickson, who now works as a restaurant columnist, got married in mid-July and had some of the guys in his wedding. In June, all five friends celebrated Dickson's bachelor party at the 30-year anniversary of their Copco Lake tradition.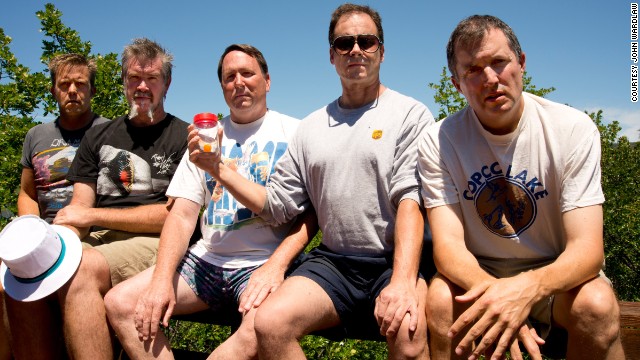 2012
Molony, who has since relocated to New Orleans and works for UPS, is married, as is Wardlaw, who made a career of his love for photography and film. Burney is a fourth-grade teacher. Rumer, known as "Kram," now resides in Oregon and has retired after owning his own electronics company. None of the men have children yet.
"We plan on doing this for the rest of our lives, no matter what," said Dickson. "Up until there's one guy just sitting in the same pose! Even then, maybe someone will take a picture of an empty bench for us."
The seven pictures to date are framed and hang on the wall of the cabin. The men still listen to the same '80s music they were listening to when they were 19 years old.
"I'm not in the same place I thought I'd be, but I'm in the right place," said Dickson. "Without this photo, there's no way we'd be together."
By Kelly Andersen
---------------------
http://edition.cnn.com/2012/07/26/travel/friends-summer-photo-tradition/index.html