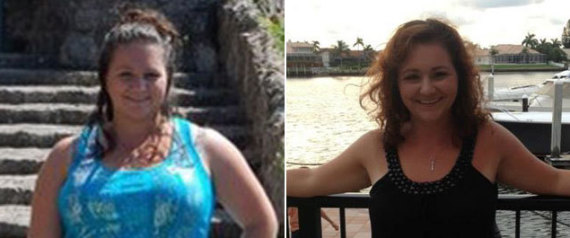 Name: Christie Dougherty
Age: 21
Height: 5'2"
Before Weight: 230 pounds
How I Gained It:
I grew up in a very healthy household. My parents have both run marathons and both were always very health conscious. But I rebelled against this lifestyle my parents tried to impose, for no reason except that I was a teenager and didn't want to be told what to do anymore.
I gained a lot of my weight during HIGH SCHOOL, particularly during the years sitting for the SATs and preparing college applications. It also didn't help that I was the target of a lot of bullying. The added stress of school and my parents telling me what to do ended in a junk food nightmare. When my parents weren't around to see, I'd eat everything from raw pasta (I was too lazy to even boil the water to make it!) to pizza and ice cream. I once even went so far as to make an entire cake and sat and ate the batter. When I started to drive, it became even worse. I learned that I was capable of eating an entire box of PopTarts in one sitting.
In college, my eating spiraled out of control because there was no one to tell me what I could and couldn't eat. I tried LOSING WEIGHT, but it never seemed to work out. It was very easy for me to rationalize, say, if my sandwich was from Whole Foods, it must be healthy.
Breaking Point:
After my freshman year of college, I was so big that doing normal tasks like walking up the stairs became difficult, and I was constantly tired and sluggish. It obviously couldn't be my weight, I would think; it must be some sort of medical condition! My mom took me to the doctor where I swore I had a thyroid problem. I think my mom and the doctor both knew that I was wrong and realized the only way to show me I had a problem was by going forward with the thyroid blood TEST. When I went back to the doctor to hear my results came back negative, it all finally came together. If I tried "dieting" and it didn't work and there was nothing medically wrong with me, the only other solution could be that I was the problem. I was the only thing standing in my way, and finally I realized that I had to take control of the situation. I created the problem; I could solve it.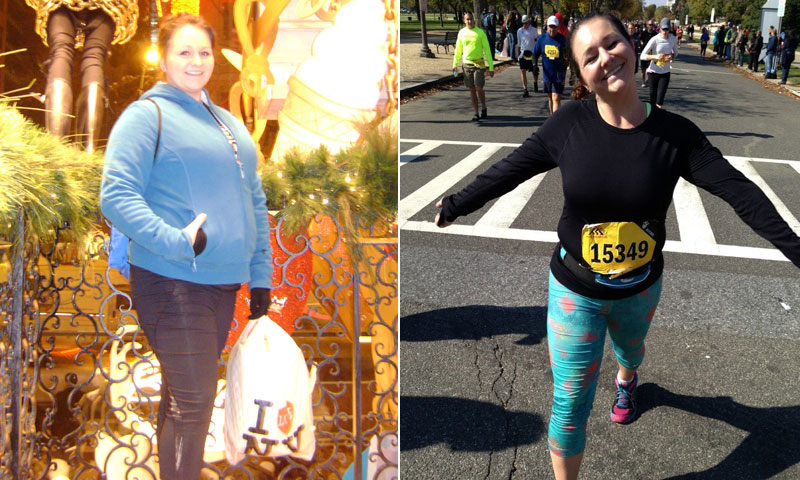 How I Lost It:
I switched out my breakfast and lunch, which included almost three bowls of CEREAL and a sandwich with about half a jar of peanut butter on it, to three scrambled egg whites and a light yogurt and fruit, while I kept my dinner the same. Slowly I ended up cutting down the portion size of dinner while still eating the same delicious food. I also signed up for the Marine Corps Marathon in March and was told by many people that I couldn't do it. Maybe it was my last act of teenage rebellion that pushed me through training for it that summer, or maybe it was a true desire and passion to change my life, but I trained so hard for that first marathon. I wanted to finish and finish with pride.
I will never forget the look on people's faces when I went back to college for my sophomore year almost 50 pounds lighter. More than my body had changed that summer; my entire outlook on life had changed, and my confidence was through the roof! In October, when I crossed the finish line of my first marathon, I was the proudest I've ever been in my life. Since finishing my first marathon, I've run two half marathons and another full one, and I've lost another 33 pounds. I'm constantly signing up for marathons because it helps keep me in shape. I signed up to do the Marine Corps Marathon again this October, putting my total marathon miles up to an even 130. I've come up with this crazy goal where I want to run 1,000 miles in marathons and half marathons. Only 870 miles to go before I sleep...
-----------------
http://www.huffingtonpost.com/2014/08/07/i-lost-weight-christie-dougherty_n_5605901.html?utm_hp_ref=mostpopular