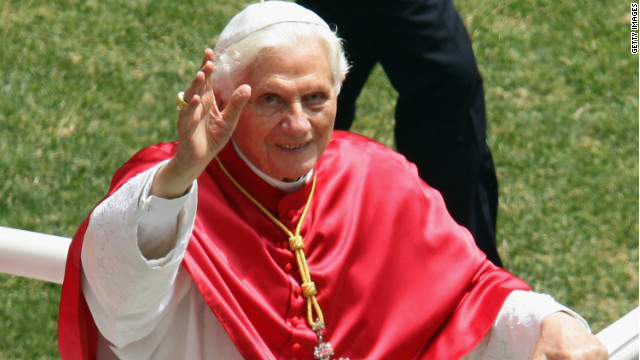 Journalists have a habit of calling too many things "historic" -- but on this occasion, the word is appropriate. The Roman Catholic Church is run like an elected monarchy, and popes are supposed to rule until death; no pope has stepped down since 1415.
Therefore, it almost feels like a concession to the modern world to read that Benedict XVI is retiring on grounds of ill health, as if he were a CEO rather than God's man on Earth. That's highly ironic considering that Benedict will be remembered as perhaps the most "conservative" pope since the 1950s -- a leader who tried to assert theological principle over fashionable compromise.
The word "conservative" is actually misleading, and the monk who received me into the Catholic Church in 2006 -- roughly a year after Benedict began his pontificate -- would be appalled to read me using it. In Catholicism, there is no right or left but only orthodoxy and error. As such, Benedict would understand the more controversial stances that he took as pope not as "turning back the clock" but as asserting a living tradition that had become undervalued within the church. His success in this regard will be felt for generations to come.
He not only permitted but quietly encouraged traditionalists to say the old rite, reviving the use of Latin or receiving the communion wafer on the tongue. He issued a new translation of the Roman Missal that tried to make its language more precise. And, in the words of one priest, he encouraged the idea that "we ought to take care and time in preparing for the liturgy, and ensure we celebrate it with as much dignity as possible." His emphasis was upon reverence and reflection, which has been a healthy antidote to the 1960s style of Catholicism that encouraged feverish participation bordering on theatrics.
Nothing the pope proposed was new, but it could be called radical, trying to recapture some of the certainty and beauty that pervaded Catholicism before the reforming Vatican II. Inevitably, this upset some. Progressives felt that he was promoting a form of religion that belonged to a different century, that his firm belief in traditional moral theology threatened to distance the church from the people it was supposed to serve.
If that's true, it wasn't the pope's intent. Contrary to the general impression that he's favored a smaller, purer church, Benedict has actually done his best to expand its reach. The most visible sign was his engagement on Twitter. But he also reached out to the Eastern Orthodox Churches and spoke up for Christians persecuted in the Middle East.
In the United Kingdom, he encouraged married Anglican priests to defect. He has even opened up dialogue with Islam. During his tenure, we've also seen a new embrace of Catholicism in the realm of politics, from Paul Ryan's nomination to Tony Blair's high-profile conversion. And far from only talking about sex, Benedict expanded the number of sins to include things such as pollution. It's too often forgotten that in the 1960s he was considered a liberal who eschewed the clerical collar.
The divisions and controversies that occurred under Benedict's leadership had little to do with him personally and a lot more to do with the Catholic Church's difficult relationship with the modern world. As a Catholic convert, I've signed up to its positions on sexual ethics, but I appreciate that many millions have not. A balance has to be struck between the rights of believers and nonbelievers, between respect for tradition and the freedom to reject it.
As the world has struggled to strike that balance (consider the role that same-sex marriage and abortion played in the 2012 election) so the church has found itself forced to be a combatant in the great, ugly culture war. Benedict would rather it played the role of reconciler and healer of wounds, but at this moment in history that's not possible. Unfortunately, its alternative role as moral arbiter has been undermined by the pedophile scandal. Nothing has dogged this pontificate so much as the tragedy of child abuse, and it will continue to blot its reputation for decades to come.
For all these problems, my sense is that Benedict will be remembered as a thinker rather than a fighter. I have been so fortunate to become a Catholic at a moment of liturgical revival under a pope who can write a book as majestic and wise as his biography of Jesus. I've been lucky to know a pope with a sense of humor and a willingness to talk and engage.
If he wasn't what the modern world wanted -- if he wasn't prepared to bend every principle or rule to appease all the people all the time -- then that's the world's problem rather than his. Although he has attained one very modern distinction indeed. On Monday, he trended ahead of Justin Bieber on Twitter for at least an hour.
Timothy Stanley is a historian at Oxford University and blogs for Britain's The Daily Telegraph. He is the author of "The Crusader: The Life and Times of Pat Buchanan."
----------------
http://edition.cnn.com/2013/02/11/opinion/stanley-pope-resigns/index.html