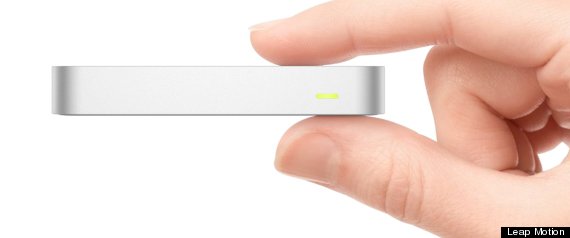 Turns out that 2013 is, indeed, a Leap Year.
Leap Motion, the company that makes the hotly anticipated gesture-control device of the same name, announced Wednesday morning that the first Leap Motion units would ship to pre-orderers around the world on May 13, and that everyone could get their hands (and fingers) on one on May 19.
If you want one, you can order on Leap Motion's website here or, somewhat curiously, on BestBuy.com right here. The Leap Motion Controller costs $80 at either outlet.
For a refresher, the Leap Motion controller plugs into almost any newer laptop and allows you to manipulate the screen via a series of hand and finger movements in the air. It's sort of like having a touchscreen computer, but without actually touching the screen. Watch this video below, made by Leap Motion, to get an idea of how the small device can wholly transform your computer:
Previously, Leap Motion announced that it was sending 10,000 of its controllers to developers, so that there would be apps specifically built for gesture control; earlier this year, the company announced its app store, Airspace, and we've already seen one of those apps, by the developers behind the to-do list Clear, shown off.
In general, though, Leap Motion works with your existing operating system (Windows 7 or 8, or OS X 10.7 and 10.8), via zoom, scroll and zoom functions baked into the hardware, which you plug into your USB port. Wired's Roberto Baldwin wrote that the Leap probably works best as a secondary controller, after your trackpad or mouse, and for specific apps or games written for it; but, like most reviewers, he came away very impressed by the little gizmo's accuracy and speed.
For more on the Leap Motion Controller, and to pre-order, you can visit the official website right here
.
The Huffington Post | By Jason Gilbert
----------------
http://www.huffingtonpost.com/2013/02/27/leap-motion-gesture-control-release-date-price_n_2773778.html?utm_hp_ref=technology