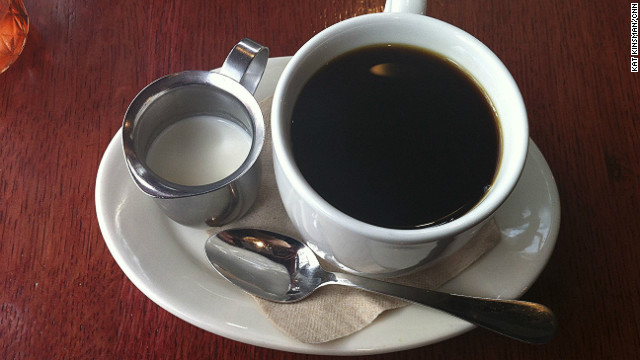 Drinking coffee and tea rich in antioxidants may not lower your risk of dementia or having a stroke, according to a new study published Wednesday in the online journal Neurology.
The study may call into question other research suggesting a diet high in antioxidants helps reduce the risk of dementia and stroke.
Researchers followed approximately 5,400 people aged 55 years and older for nearly 14 years. The participants had no signs of dementia when they began the study and most had never had a stroke. They were questioned about how often they ate 170 foods over the course of the past year and they were divided into three groups based on the levels of antioxidants in their diet - low, moderate or high.
Antioxidants are vitamins, minerals and other nutrients that help protect your cells and repair cell damage caused by free radicals. Free radicals, molecules responsible for aging and tissue damage, may be a factor in heart disease, cancer and other disease.
Foods loaded with antioxidants include blueberries, strawberries and raspberries, tomatoes, kale, bell peppers, corn, and spinach. The major antioxidant vitamins are Vitamin C, beta-carotene and Vitamin E. They're largely found in colorful fruits and veggies, especially those that are red, blue, purple, yellow and orange in color.
But most of the antioxidants consumed by study participants came in the form of coffee and tea, said study author Elizabeth Devore of Harvard Medical School and Erasmus Medical Center in Rotterdam, Netherlands.
Approximately 600 people developed dementia and about 600 had a stroke over the course of the study. But those who consumed antixoidant-rich diets did not change their risk of developing brain disease any more than those with low levels in their diets, researchers said.
"These results are interesting because other studies have suggested that antioxidants may help protect against stroke and dementia," said Devore. "It's possible that individual antioxidants, or the main foods that contribute those antioxidants - rather than the total antioxidant level in the diet - contribute to the lower risk of dementia and stroke found in earlier studies."
Dr. Richard Lipton, vice chairman of neurology at Albert Einstein College of Medicine says people tend to think antioxidants are called one thing and all have the same properties. But the paper is clear that 90% of the antioxidants came from coffee and tea and that doesn't have the same protective effect.
"This study is not saying that blueberries don't help you or a Mediterranean diet doesn't help you, it's saying this very specific dietary component doesn't reduce stroke and dementia risk." Lipton told CNN. "This study looked at a certain type of antioxidants primarily from coffee and tea and doesn't speak to antioxidants in fruits and vegetables and the Mediterranean diet."
In fact, the researchers say there is growing evidence that consuming lots of fruits, vegetables and even alcoholic beverages may be linked to a reduced risk of stroke - that specific antioxidant-rich foods and beverages are more important for lowering the risk of stoke than the overall antioxidant capacity of the diet.
Saundra Young - CNN Medical Senior Producer
-------------
http://thechart.blogs.cnn.com/2013/02/20/antioxidants-in-coffee-tea-may-not-help-prevent-dementia-stroke/