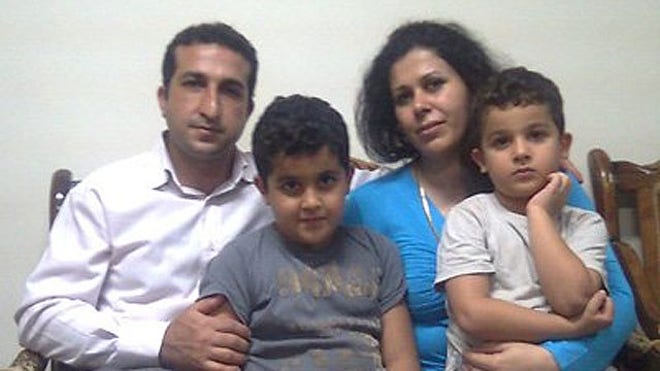 Iranian Pastor Youcef Nadarkhani, who was originally sentenced to death in his native country for his Christian faith, was acquitted of apostasy charges and released from custody.
Nadarkhani, 32, was imprisoned for three years and waiting execution for refusing to renounce his Christian faith. His charges
were lowered to evangelizing to Muslims, which carried a three-year sentence. He was released with time served, according to the American Center for Law and Justice, a Washington-based watchdog group that had been campaigning for the pastor's release.
"Today our sources in Iran reported that Pastor Youcef was acquitted of apostasy and released from prison. After languishing in prison for almost three years, he has been reunited with his family," Jordan Sekulow, executive director of ACLJ said in a statement to FoxNews.com.
"While we are working on confirming the exact details of his release, some sources report that the court alternatively convicted Pastor Youcef of evangelizing to Muslims, sentencing him to three years and granting him time served. Pastor Youcef's story is an example of how the world can join together to ensure that justice is served and freedom preserved."
Nadarkhani was originally called to Saturday's hearing to answer to "charges brought against him," leading to speculation that the new charges from the Iranian Supreme Court could be for a security-based crime, a charge often handed down to cover-up prisoners being held and sentenced on faith-based charges.
"While we praise the release of Pastor Youcef, we must recognize that Iran felt obligated to save face among its people and continue its pattern of suppressing religious freedom with intimidation tactics," Tiffany Barrans, a legal director for ACLJ said to FoxNews.com.
"International attention to this matter saved this man's life, but we must not forget the human right of freedom of religion includes the right to freedom of expression."
Nadarkhani's attorney, who also has been jailed, maintained that the married father of two faced execution because he refused to renounce his religion. An Iranian diplomat told a United Nations panel earlier this year that Nadarkhani would not be executed.
According to Sharia law, an apostate has three days to recant. The pastor refused to do so and sources close to the matter say executions in Iran can happen at any time, often without notice. The court is reportedly seeking the opinion of Ayatollah Ali Khamenei, the Islamic republic's spiritual leader and highest authority, according to AFP.
The ACLJ worked with the State Department to try to win Nadarkhani's freedom, and the U.S. House of Representatives passed a resolution earlier this year condemning his imprisonment and calling for his immediate release. Nearly 3 million people have voiced support for Nadarkhani on Twitter through the "Tweet for Youcef" campaign.
By
Perry Chiaramonte
-----------------------
http://www.foxnews.com/world/2012/09/08/christian-pastor-jailed-in-iran-for-3-years-is-freed-watchdog-group-says/