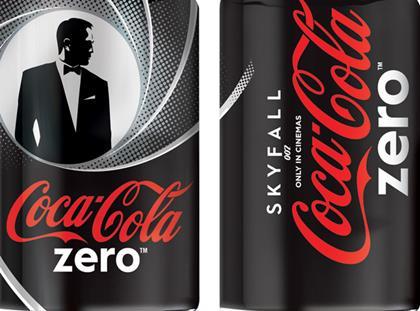 Coca-Cola has unveiled a limited-edition Coke Zero design that's licensed to thrill James Bond fans.
All formats of the brand – can, PET bottle and aluminium bottle – will feature the famous 'gun barrel' graphic to mark upcoming Bond movie Skyfall, which is released on 26 October.
The packs continue the brand's partnership with 007, which began in
2008 when Coca-Cola was associated with the previous Bond movie, Quantum of Solace.
Coca-Cola said a high-impact TV/cinema spot had been created to support the new partnership as part of a marketing campaign that will also use outdoor advertising, a digital and social media campaign and retail activity.
"Skyfall is one of this year's most anticipated film releases, and we are very excited to continue our relationship with the world's favourite movie franchise," said Coca-Cola Enterprises sales & customer director Darren Goldney.
Skyfall, the 23rd instalment in the franchise, stars Daniel Craig in his third outing as Bond, whose loyalty to M is tested as her past comes back to haunt her. As MI6 comes under attack, 007 must track down and destroy the threat, no matter how personal the cost.
------------------
http://www.thegrocer.co.uk/companies/brands/coca-cola/skyfall-prompts-james-bond-edition-of-coke-zero/231651.article?redirCanon=1