Gilded Lotus is an incredibly powerful rare artifact from Wizards of the Coast's upcoming "Magic 2013 Core Set" that can produce mana of any color.
Gilded Lotus
- 5
Artifact (Rare)
Tap: Add three mana of any one color to your mana pool.
Over such beauty, wars are fought. With such power, wars are won.
Revealed in an
article
by Brian David-Marshall on DailyMTG.com, Gilded Lotus was originally printed in "Mirrodin."
There are a lot of amazing
creatures running around in that have a casting cost of eight mana:
Avacyn, Angel of Hope

,

Griselbrand

,

Liege of the Tangle

, and

Vorinclex, Voice of Hunger

.
Gilded Lotus can help you cast them on turn six or sooner.
Unlike
Somberwald Sage
, Gilded Lotus doesn't restrict you to casting just creatures. That means you'll be able to play
Army of the Damned
and massive XX spells like
Bonfire of the Damned
and
Entreat the Angels

.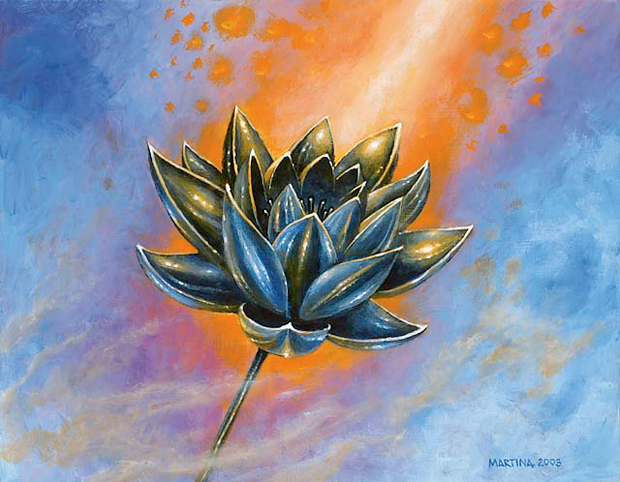 Another idea is to throw Gilded Lotus into any deck seeking to abuse Nicol Bolas or the wacky new red rare Worldfire.
Gilded Lotus can help invaluable
David Leavitt
Boston Magic the Gathering Examiner
----------
http://www.examiner.com/article/gilded-lotus-super-charges-the-magic-2013-core-set
http://magiccards.info/scans/en/mi/175.jpg
http://www.wizards.com/Magic/Magazine/Article.aspx?x=mtg/daily/twtw/201