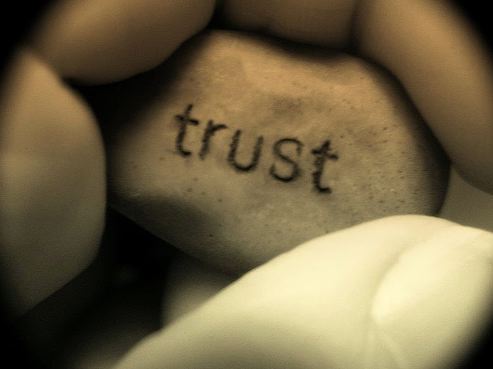 There are some people who do not behave as they should.
They do not trust anybody and do not deserve to be trusted.
They remain cocooned in their own world , still want to rule.
It is futile to explain to them with regard to ethics, morale and rule.
The motto, the resolution of my life,
Has always been 'happy to help'.
It is up to the recipient, whether or not to accept.
I can only say, so shall you reap, if you sow hate,
'Cause to deserve to get love and trust
It is always required to prove one's worth.'
After the dilemma and much deliberation, I suddenly thought,
My conscience is clear and why should I care a hoot?
To build a better world, I will try my best,
Even if that amounts to be declared, that I have failed the test.
Copyright © 2012 Mrs. Swarna Prabha Kar
--------------
http://www.motivateus.com/stories/trustdeficit.htm
http://bostonbiker.org/files/2009/10/trust.jpg